An adorable puppy has undergone a crazy makeover to transform him into a Pokémon.
Award-winning dog groomer Gabriel Feitosa, who is known for his unique grooming skills, turned the white-furred poodle into 'Arcanine', a character in the franchise.
Gabriel, from California, America, has shared a video of his latest creation on TikTok and has received more than 194,000 likes for his handiwork.
The video shows eight-month-old Edea sitting patiently on a chair, awaiting his makeover.
In an attempt at video effects, Gabriel approaches the pup with a Pokémon toy and with a flash of light, the poodle is transformed with dog-safe hair dye.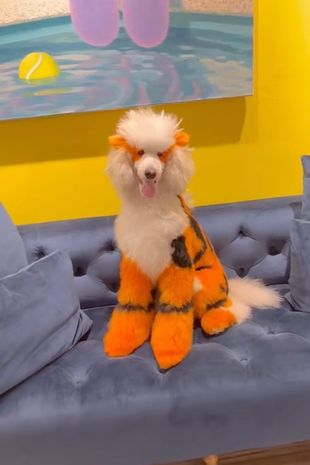 We then get to see the dog running around the house while playing catch with a Pokémon ball.
Gabriel embraces Edea with a gentle hug, looking pleased with the new look.
TikTok users have been blown away by the before and after snap, with one user saying: "Omg I'm literally going to do this as soon as I learn to."
"Bro I feel like you're making dreams come true giving the world real life Pokémon got to catch them all," someone else said.
Another user said: "Oh my god cuteness overload meter is off the fricking roof Arcanine."
"That's awesome! One of my favourite Pokémon. It's so fluffy," added someone else.
"Oh my god, perfect doggo! I did not know I needed this until right now. thank you," wrote another user.
"Awwww so cute I love Pokémon. I'm going to have to catch that now you do know that right," commented another fan.