If you are a dog lover, you must have known the Golden Retriever breed. Golden is ranked 4th on the list of the most intelligent dog breeds in the world. Thanks to its cute looks and super friendly personality, the Golden Retriever is capable of stealing your heart at first sight. In today's article, Love Pets will summarize all the information related to these extremely lovely dogs. So if you are planning to pick up a Golden puppy, please refer to the very useful shares below!
Origin of the Golden Retriever breed
The Golden Retriever is a breed of dog originating from Scotland, United Kingdom. Golden is the result of crossbreeding from many breeds including straight-haired Retrievers, Tweed Water Spaniels, Setters, and Spaniels. It is also thought that in the genes of Golden there is a mixture of Bloodhound and Newfoundland breeds.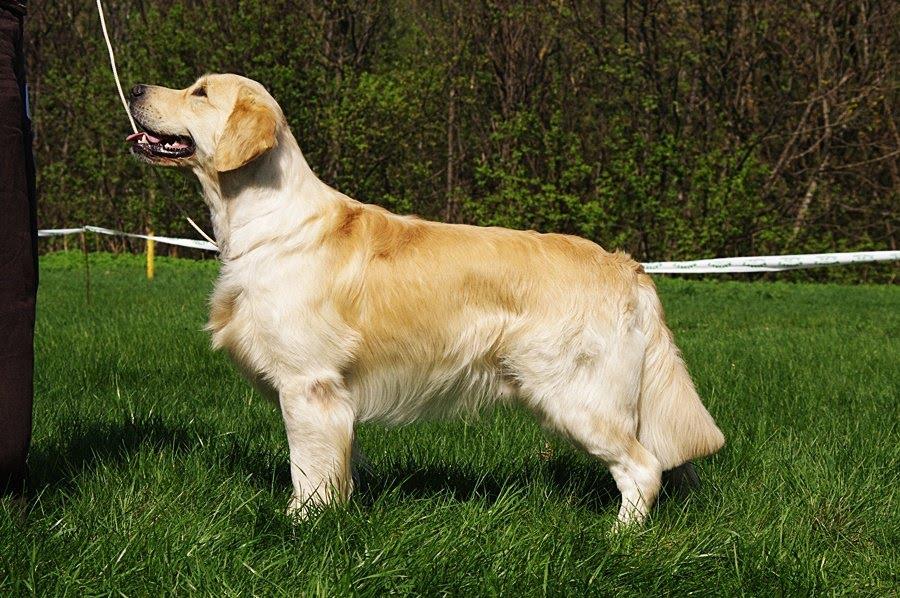 After being successfully bred, the Golden Retriever dog was originally named Golden Flat-Coat. With an intelligent nature, Golden is often trained to become professional service dogs. They are also an effective hand of the indigenous people on hunting trips.
Today, the Golden Retriever is not only popular in the UK, but this breed is present all over the world. Goldens are extremely intelligent, so they are able to absorb training quickly. The Golden Dogs participate in many dog ​​show competitions every year. Many Golden children have won high prizes in prestigious competitions. Thanks to that, people love this intelligent and friendly dog ​​even more.
How many types of Golden Retriever dogs are there?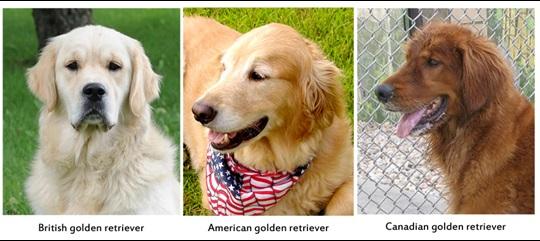 After many years of breeding, Golden dogs were divided into 3 main lines. These are the traditional British Golden, American Golden and Canadian Golden. The reason for such a division is because the process of Golden living in these countries has given rise to some new characteristics. Although keeping the basic features of the British Golden line, the American Golden and the Canadian Golden have a shaded coat color. Besides, the size of each Golden line is slightly different.
Golden Retriever UK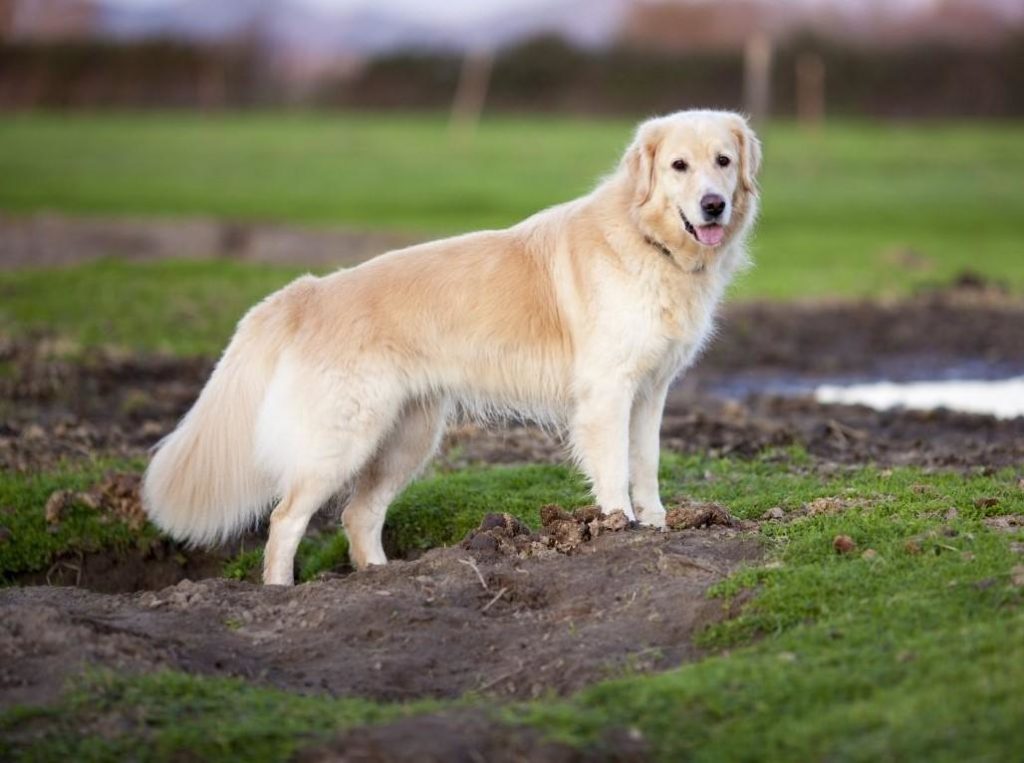 This is the standard Golden breed of 3 popular Golden breeds in the world today. The Goldens from England have a relatively tall appearance with toned muscles. In which, the male Golden usually has a height of 55 to 60 cm. Golden female babies are a bit smaller when they are 51 to 56cm tall.
In addition, this Golden line also owns round eyes with jet black color. Their fur is always yellow or slightly cream-colored. The coat is quite long and thick. The skull size of the British Golden Dog is also wider than that of its American and Canadian cousins.
American Golden Retriever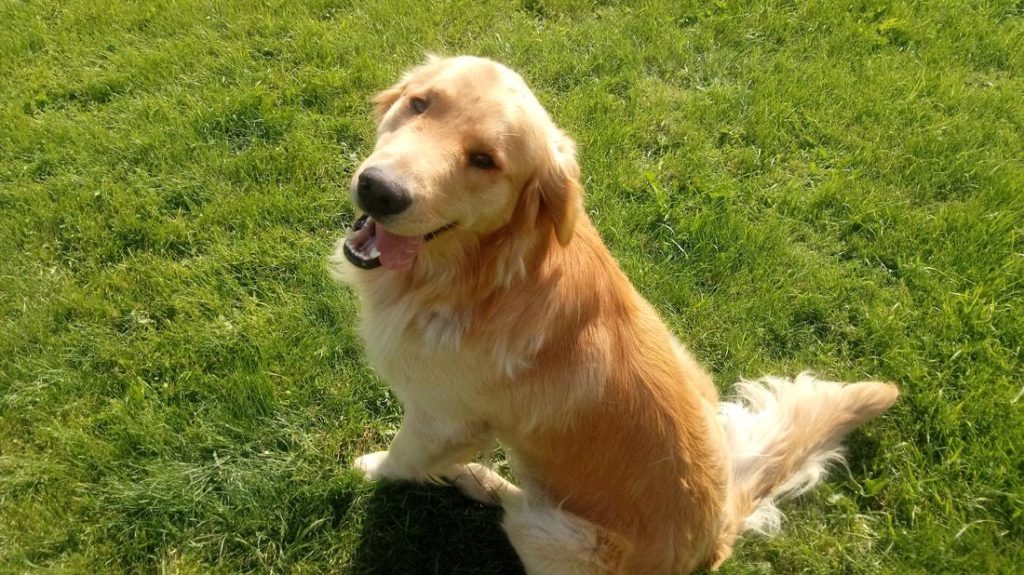 The American Golden breed still has a toned body, slightly taller than the British Golden. Male dogs will be 58 to 61 cm tall, while female Goldens will be 53 to 56 cm tall. Wearing higher than the British Golden, but the American Golden is lighter, so they will look thinner than their British brothers.
The coat of the American Golden is slightly darker than that of the British Golden. Also known as fawn (shade color).
Golden Retriever Canada
The Canadian Golden grew out of the American Golden line. These dogs are usually from 56 to 60cm tall for males, 50 to 55cm for females. The weight of the Golden Canadian is usually from 30 to 38kg. The difference of this Golden breed is that their coat is somewhat darker than their brothers coming to England and America. Therefore, Canadian Golden has not been appreciated as much as the other 2 Golden lines.
Appearance characteristics of purebred Golden dogs
Today, people have crossed Golden with many other dog breeds to create a hybrid Golden dog line. But for the true dog lover, the purebred Golden Retriever is still the most valuable. Golden dogs are considered purebred when they have a balanced, strong body. The standard size when Golden matures with male and female individuals will be respectively:
Male Golden Retriever: 58 to 61cm tall, 29 to 34kg weight.
Female Golden Retriever: Height from 55 to 57cm, weight from 28 to 32kg.
The skulls of Golden puppies are quite large. In particular, they possess extremely sensitive noses, capable of sniffing from a distance. Golden's eyes are large and round, dark brown in color. When you look into their eyes, you will clearly see their intelligence and alertness. The muzzle of this breed is quite large with strong teeth.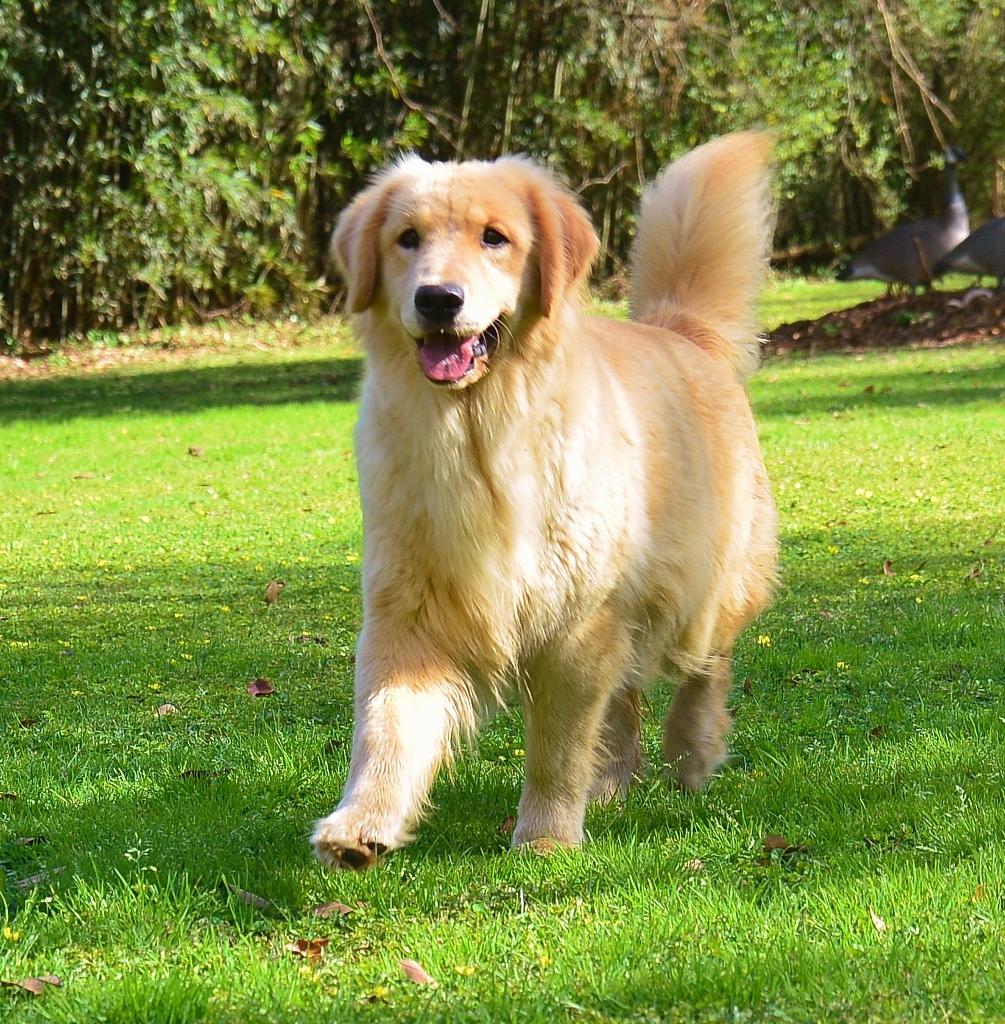 The Golden Retriever dog breed has very long ears, the ears are always lowered to cover almost half of the face. Their necks are very large, their breasts are enlarged, and their muscles are toned. In particular, the Golden's tail is always straight, never bent, the tail length usually reaches the elbow.
The Golden Dog's coat is very long and soft. Feathers are composed of 2 layers. In which the inner coat is very smooth and short, the outer coat is long and stiffer than the inner coat. Golden's most popular coat color is still cream yellow.
Characteristic personality of Golden Retriever dogs 
Golden is popularly raised in many countries around the world. In Vietnam, this is also the most popular dog breed. Just seeing the Golden babies, you are immediately hypnotized by them. Not only because of their super cute appearance, but more importantly, their friendly and gentle personality.
Golden dog – smart and sly
Many people also nickname the Golden puppies "Dumb" because of their somewhat stupid faces. But don't think they're stupid. On the contrary, Golden is an extremely intelligent dog breed. Golden babies are ranked 4th in the list of the most intelligent dog breeds in the world. They are just behind the Border Collie, Poodle, and German Shepherd in this list.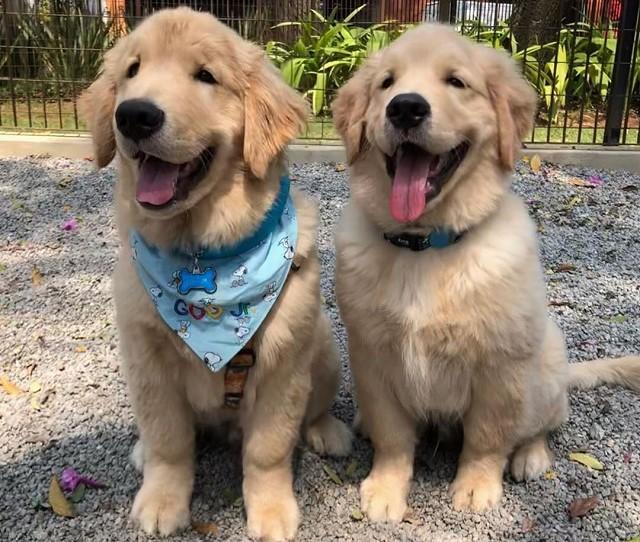 You will clearly see the intelligent nature of Golden when training the dog. Golden puppies have the ability to receive and execute their owners' commands very quickly. Just need you to guide through 1 or 2 times, the dog knows what to do. Sometimes dogs even act a little sly when intentionally doing a little wrong, but the dog always knows what to do. Every change of sadness and happiness on the owner's face, Golden can clearly feel it.
Really if you've ever raised Golden, you definitely never want to leave them. Golden is especially smart and obedient when the dog is over 1 year old. It feels like the dog seems to understand all the thoughts of the owner. When you are tired, the dog will come to you and comfort you with cute actions such as snuggling in your lap, making smiley faces. Once the dog has made a smiley face, all your fatigue seems to naturally disappear. Netizens often have a saying "lovers may not have but dogs must have one" for that reason.
Golden Dog – obedient and obedient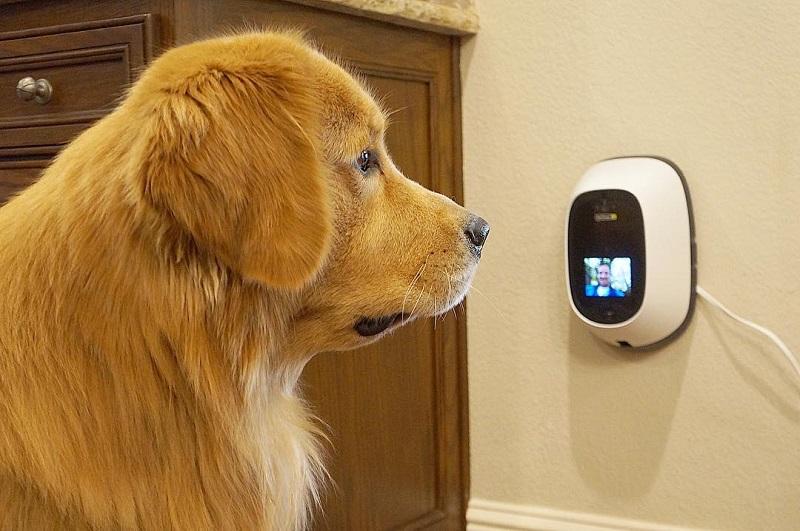 Golden is a very gentle and obedient dog. And honestly, just by seeing Golden's face, you already know how good they are. Puppies are not as destructive as other hyperactive dog breeds. Golden's intelligence and sophistication always help dogs know what to do. If properly trained from a young age, Golden children will be like obedient children, ready to do anything you ask.
Golden is not the uncle who always likes the eternal faucet. Dogs like to simply ask for compliments, a pat on the head from their owners. Just that the dog has been happy all day. So when your dog does something well, show him praise with small actions. This way the dog will be motivated to continue to do well.
Golden Dog – has the ability to control emotions
Some other hunting dogs still have a bit of a wild side in them, they sometimes can't express their emotions. But with Golden dog, is the complete opposite of his intelligence, Golden always knows what to do. Even though they are not satisfied with the owner, the children do not react when they are stubborn and stubborn. When the owner gives an order, the dog is still willing to follow.
Golden Dog – loyal and very affectionate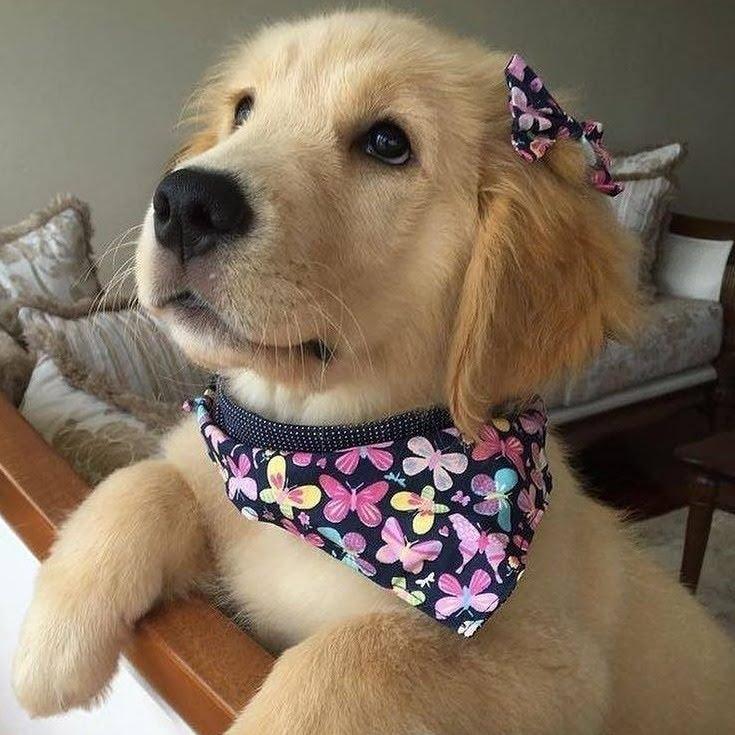 Golden is inherently very friendly with strangers, but that does not mean that everyone considers everyone as its owner. Dogs can appear close to strangers and especially children. But in my mind, the dog still knows who is his real owner. Dogs are only ready to execute commands when ordered by their owners.
Perhaps few people know that a Golden is a dog that is afraid of being alone. Dogs always tend to want to be with their owners and friends. Golden can live in tight spaces as long as it always receives attention from its owner. So if you intend to raise Golden but keep the dog in a separate area, you should think again. Because doing this is like making a child sleep in the yard overnight. Imagine how lonely they would be. Same with Golden puppies, dogs are afraid to be alone even if the place is full of food or toys.
Golden dog – a great friend for young lotus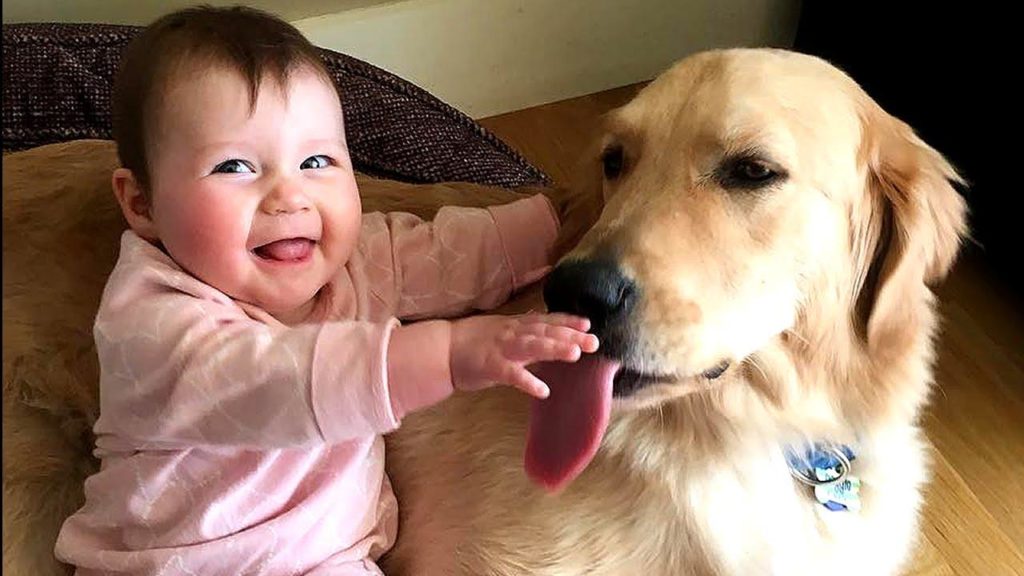 You will be hard-pressed to find a dog breed that loves children as much as Golden puppies. When playing with the "little lotus", the dog always shows patience no matter how much they are teased. Dogs always show patience to all the children's pranks. It is because of this friendly nature that in Western countries, people often raise Golden to take care of the children. Golden will definitely be a great 4-legged nanny to support your baby's care.
Of course, to minimize the risk, you still need to supervise when letting your dog play with the children. But that's just in case dogs are too friendly with babies. But in fact, there has not been any recorded cases with children caused by Golden. Moreover, letting children play with Golden puppies also helps to develop children's personality comprehensively. In many hospitals in the US, people also raise Golden to support psychotherapy for children with autism. That's how we see that "Dumb"-faced dogs are exactly the true friends of children.
Golden Dog – still has a protective instinct
Many people joke that raising Golden, we have to look after the dog instead of letting the dog look after the house. That's because Golden's nature is too friendly even with strangers. But if you train from a young age in the right way, the dog is still able to protect. Although not compared with hunting lines such as Beckie, Rottweiler, Phu Quoc dog, .. But if to look after a normal house, Golden is still capable of performing well with his barking task.
Ideal living conditions of Golden dogs 
Golden dogs have the ability to adapt to many different living environments, from narrow apartments to spaces with spacious gardens. But if possible, keep your dog in a place with a large garden so that the dog can play comfortably every day.
If you have a dog in an apartment, you should take your dog for a walk every day in the early morning or in the evening. Although Goldens are not as demanding as sled dogs (Husky, Alaskan or Samoyed). But in order for the dog's body to develop to the fullest, you should still let the dog be active in the outside environment more often instead of keeping the dog indoors.
Common diseases in Golden dogs
It is known that the average lifespan of each Golden puppy is from 10 to 12 years if well cared for. Golden's health is generally quite good, the dog is less likely to get sick and is able to live well in many environments. However, during the course of life, Golden dogs are still at risk of some eye diseases, bone and joint diseases, and intestinal diseases.
6.1. Cataract patients
Cataracts in Golden have the same mechanism as in humans. Accordingly, when infected, the dog's eyes gradually appear with cloudy spots in the eye canal. The more severe the disease, the larger the opaque spots, the dog's eyes will be blurred. In severe cases, dogs can lose their vision completely.
This is a disease that does not exclude any age in Golden dogs. Usually, the dog will inherit it from the mother. Therefore, dogs with this disease should not be used for breeding. With early detection and timely surgery, cataracts in Golden can still be completely cured.
6.2. Hydrolyzed bone dysplasia
Aquatic dysplasia is a common genetic disease in the Golden breed. When the dog is sick, the bones in the hip and thigh will not match. Only when the dog is 4 months old, you can detect the disease.
Aquatic dysplasia in Golden dogs appears mainly due to genetics. The dog's mother or father is infected but is still brought to breed and then passes the disease on to the child. When the dog is sick, the muscles begin to ache, over time the muscles will atrophy and then become paralyzed, making the dog unable to walk normally.
Allergy
The golden breed is very susceptible to allergic diseases. Especially allergies due to certain types of pollen or when the dog eats foods containing pollen. When you see that your dog has symptoms such as scratching his face, and rubbing his paws constantly, you should take your dog to a veterinary facility for timely handling.
Hereditary blood disorder
This is one of the extremely dangerous diseases that Golden dogs can encounter. The danger when a dog has this disease is that the blood will not be able to clot when the dog is injured, leading to continuous blood loss and easily causing the dog to die.
When detecting signs such as the dog has nosebleeds, bleeding in the gums, it is necessary to take the dog to the veterinarian. At this point, it is possible that the dog has internal bleeding.
What do Golden Dogs eat?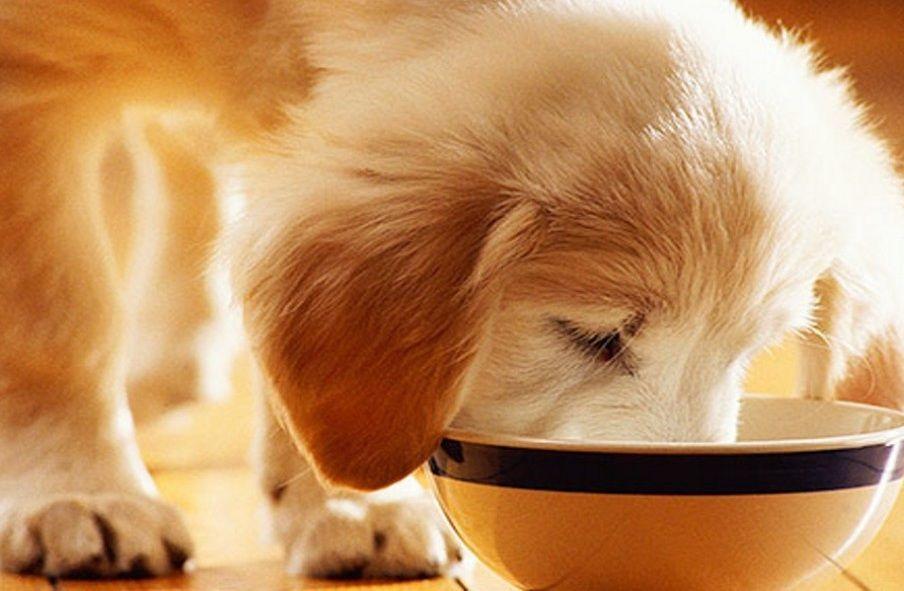 In order for Golden puppies to grow healthy, you need to pay attention to providing them with a rich source of nutrients. In which, give priority to meat, fish, and milk in your dog's daily diet.
Types of meat
Meats are high in protein. In addition, there are minerals and fats. What role do they play in helping dogs to develop comprehensively the muscles and joints? So, if possible, add meat to your dog's diet every day. However, you should not give your dog too much fatty meat, but lean meat is better instead.
Fish
Fish is rich in vitamins, fats, and proteins. And especially the omega 3 content is very good for the dog's eyes. At the same time, when eating fish regularly, the dog's coat is much smoother.
Milk
Just like humans, Golden loves to drink milk. Milk contains many nutrients that are very good for the overall development of dogs. When your puppy is between 2 and 4 months old, give him milk every day.
Vegetables
Besides meat, fish, and milk, indispensable in Golden's daily meals are vegetables. This is an abundant and safe source of dietary fiber and vitamins. Moreover, vitamins and fiber are essential for the digestive system of every dog.
How to raise Golden Dog 
Raising Golden, in addition to feeding the dog full of nutrients, you need to take care of the dog's coat very carefully. At the same time, train Golden puppies from a young age.
Hair care for Golden
The Golden Dog has a very long and thick coat. If you want your dog's coat to always be smooth, you need to pay attention to coat care. Golden is inherently very mischievous, so dogs often make their costumes contaminated with dirt and bacteria. If you don't pay attention, the dog's hair will be sticky.
Every day, use a specialized comb to brush the dog's coat. You should bathe your dog 1 to 2 times a week. It is not necessary to shower with water, but you can use dry bath powder. If you take a shower, then after the bath, dry the dog's coat.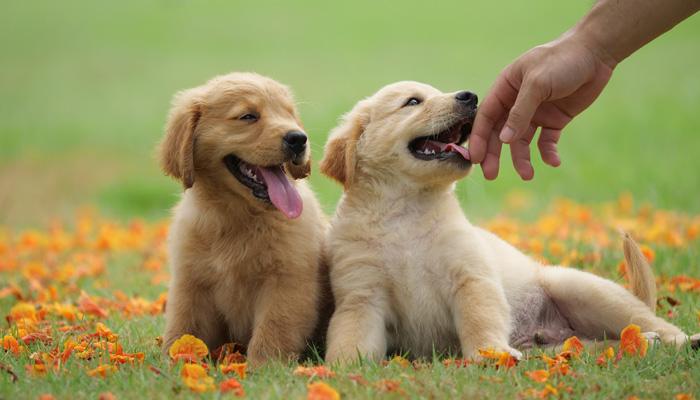 Besides, you need to clean your dog's teeth twice a day. Practice brushing your dog's teeth every day. To stimulate this habit, buy whipped cream with an attractive scent like the smell of beef. Thus, the dog will be more interested in oral hygiene.
Golden dog training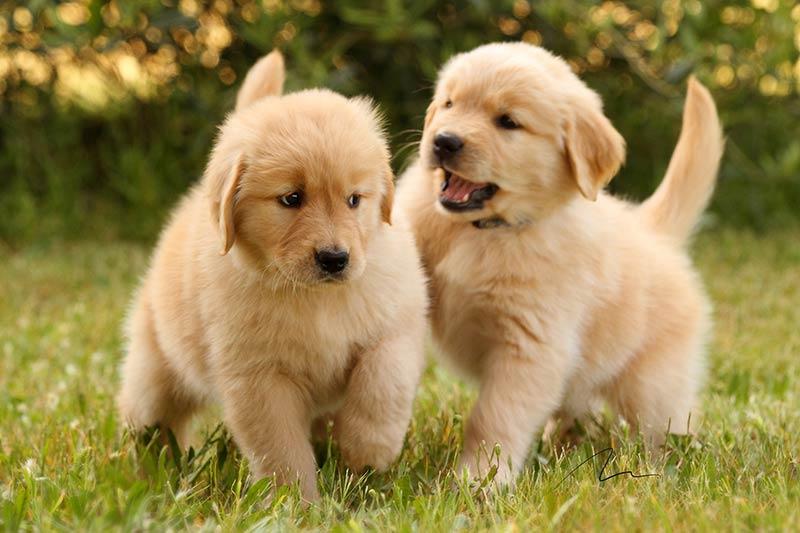 Golden is a very intelligent dog, but not because of that when the owner is ignored the training stage. When the dog is about 2 to 3 months old, it is the best time to teach the dog some basic training. For example, go to the toilet in the right place, and sleep in the right place.
Train Golden to go to the toilet in the right place
When they were young, Golden puppies often went to the toilet indiscriminately. So if you want your house to be always clean, you need to train your dog to have the habit of going to the toilet in the right place.
Initially, spread old newspapers on the floor of the house in the area where the dog frequents. The purpose of this is so that the dog will defecate on those newspapers. Next, collect newspapers with the dog's feces and urine to put in the place where you want your dog to go to the toilet. Goldens often have a habit of defecating in places where their urine smells. So from the next time, the dog will form a habit of going to the toilet in the right place according to your direction.
Train Golden to sleep in the right place
Golden puppies, if not taught from a young age, are very good at sleeping. So you need to start training your dog to sleep in the right place. You should arrange many toys in the place where the dog sleeps to create excitement for the dog. On the other hand, when the dog is done playing, you need to guide the dog to clean up. Golden is very smart, so they almost understand what you instruct.
Golden loves to gnaw around objects, this is a very difficult habit to break of this breed. Therefore, prepare a few rubber toys for your dog to chew on when he is upset.
A few interesting things related to Golden dogs
Smart, and friendly is the first thing that many people think of when it comes to Golden puppies. But these "Dumb" face dogs also carry a lot of other interesting things.
Golden is the favorite dog of many US presidents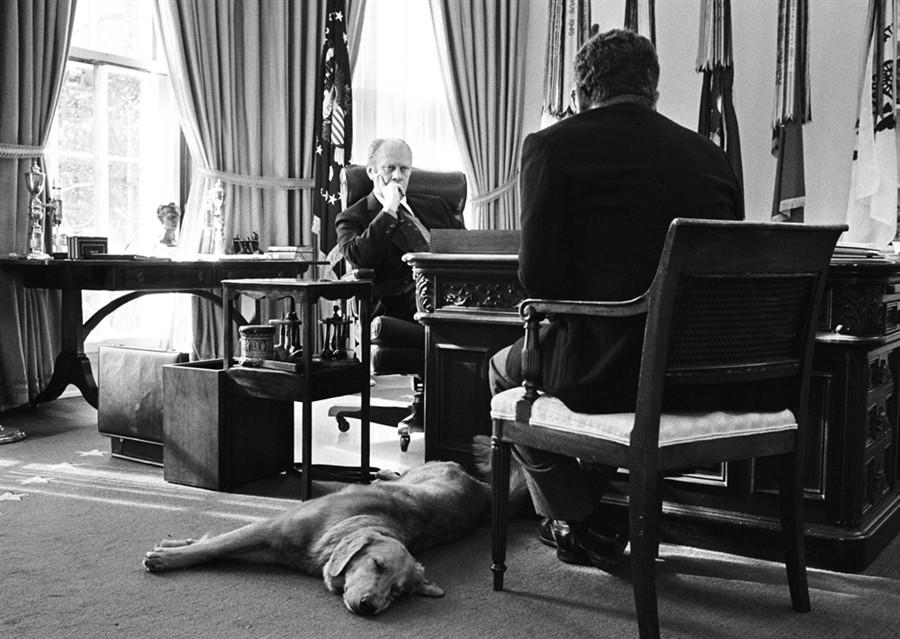 The attraction from "Dumb"-faced dogs is undeniable. Even with powerful people like US president Gerald Ford, Ronald Reagan was also conquered by Golden.
Liberty is the name of President Gerald Ford's pet dog. During the term of the 38th president of the United States, Liberty always appeared with him wherever he was. Liberty's popularity also helped make the Golden a more popular breed in the United States. Before President Gerald Ford ended his term, his dog gave birth to a litter of Golden cubs on the grounds of the White House area.
In addition to Gerald Ford, there was another general who also had a Golden puppy. It was Sir Ronald Reagan (40th president of the United States). Pictures of him and his pet always attract the interest of animal lovers.
The Golden Dog was recognized relatively late
Although it has been around for quite a while, it was not until 1925 that the Golden was officially recognized by the American Kennel Club as a separate breed. In the UK, the Golden has been recognized by the British Kennel Club since 1911.
The reason why people recognized this breed so late is because they need time to determine their difference from the Water Spaniel and Labrador breeds. Because between the Golden Retriever, the Labrador Retriever and the Water Spaniel, there are many similarities in appearance.
The golden dog is a great hunter
The name Golden Retriever also means retriever. Golden puppies are born with a skillful hunting instinct. This breed converges all the elements of a good hunter such as a keen sense of smell, high endurance, intelligence, ability to improvise, etc. Thanks to that, Golden can sniff and hunt. chase prey from extreme distances.
The golden dog possesses top swimming ability
Looking at the face, it seems a bit silly, but Golden has a remarkable swimming ability. That's thanks to the Golden's body structure, which is very suitable for swimming underwater. The dog's tail acts as an oar, while the Golden's paw has a structure similar to the membrane of a propeller. Especially the waterproof coat with 2 thick layers of hair helps the Golden to keep its body floating on the water.
To see if your dog is a good swimmer, just let him play in any lake. Surely the dog will be like a "fish in water" that rushes into the pool to see. Although Golden is a very good swimmer, do not let your dog play in deep water because of that.