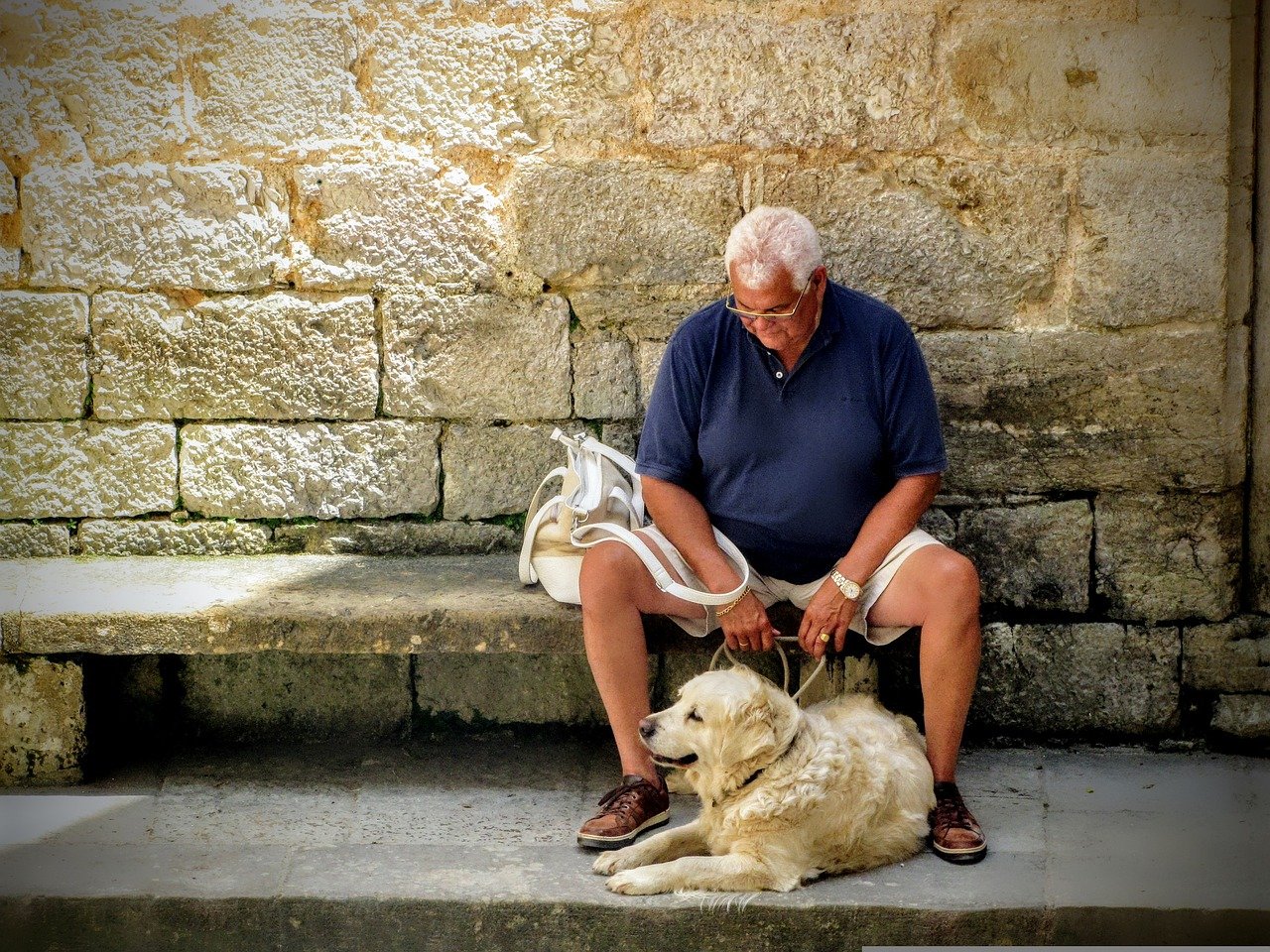 Pets grieve for the loss of human companions. If you read this story, the answer will be obvious. What would pets say?
You're waiting! What happened? Ever since that evening when you didn't show up for our walk and the family was crying and upset, I have felt empty inside and I just want to find you. All I have now are my memories because you are not where you used to be.
You and I were the first to get up every morning. We would go for a walk together before anyone else and their cars woke up. Every day began with you and I, soft morning sun and birds singing in joyous celebration of a new day. When the family releases me, I now walk on my own.
Some days we would go up to the cemetery, under the wide, stretched arms of White Pines. You'd choose the opposite direction some days and we would hike down to Eddy Creek, where I could look for frogs and swim. You always had me guessing and sometimes, I would guess incorrectly and then you said, "No." Today, we're heading in this direction."
I was really excited before our walks because you always let me beI'll wait here for you. You always leave me alone. I'll be here to wait for you. myself. You allowed me to run around and track the scents of animals. You allowed me to dig for things that smelled nice. You allowed me to carry sticks around in my mouth because I thought it was fun. You must have known how happy I felt when I got to strut around with an old, useless stick in my hand.
You'd tease me and ask, "What's this for? Then you'd ask me, "What is this?" You'd tease me and ask, "What do you want to do with that old stick?"
You'd tell me, "Oh I see", and then send the ball flying into the air to retrieve it.
It was a special treat when you threw a stick in Eddy Creek, and I had to swim around to get it back before the current carried it away. Even when you told me to take long naps under the willow trees while you worked the surface of the water with your homemade trout fly, I enjoyed Eddy Creek.
You liked the smelly trout that we would take home to eat. The waiting was fun because I knew that we would play tomorrow. What happened? You're waiting!
Since that terrible night, when you did not take me on our walk in the garden at sunset to end the evening, things have been very different. What happened? Where did you go?
The mornings are too quiet for me to visit Eddy Creek. There's no little trout there anymore and it's just too quiet. After you left, I thought I still saw you at the edge of the water with your mouth open and your straw hat covering your eyes. I also imagined your fly-line looping above the water. You'd make me so happy I would run up to you. But you'd already be gone by the time I got to the creek. The birds must have also left because I no longer hear them singing about the misty dawns as they did when we used to be together.
When I sit next to the namestone, I only feel close to you. I still think I can feel your hand touching my head, just like when I used to read in your chair. It's only there that I can feel you close. It's fine, I have plenty to think about as I wait for you.
I often think about my first family day. My first day with my family was a mixture of excitement and fear. I also felt very curious and interested in my surroundings. They were busy with rubbing and patting me on the head and my ears, and picking up and clapping my hands in order to attract my attention. Finally, I found you quietly reading in your chair.
The seat looked comfortable by your side so I joined you. You gently rubbed my cheek with your hand and said a gentle "Good Boy". You said, to your family: "I'm sure he needs a rest right now." Since then, I felt secure next to you.
My true friend, you are. You are my true friend.
You're there, I know it. Why can't we play anymore? What happened to you? Sometime I can hear myself sigh and whine because I miss your presence so much. I wonder if I am heard. You must be close because I don't feel safe anywhere else. I cannot see, hear or smell you. Then I will keep on coming to you. I will sit at the rock that has your name on the top and think about all of the good times we shared.
Someday, I'm sure we'll be back for more hikes. Turning left on the road, we'll hike down to Eddy Creek. While you tie your new trout fly, I will be lying beneath the willow trees watching.
I will stay here until then so that you can locate me. You'll find me waiting by the rock that has your name written on it.
Do you have thoughts about having to put your beloved pet down? Dr. Dunn has written a detailed description of "that day", and what you can expect.