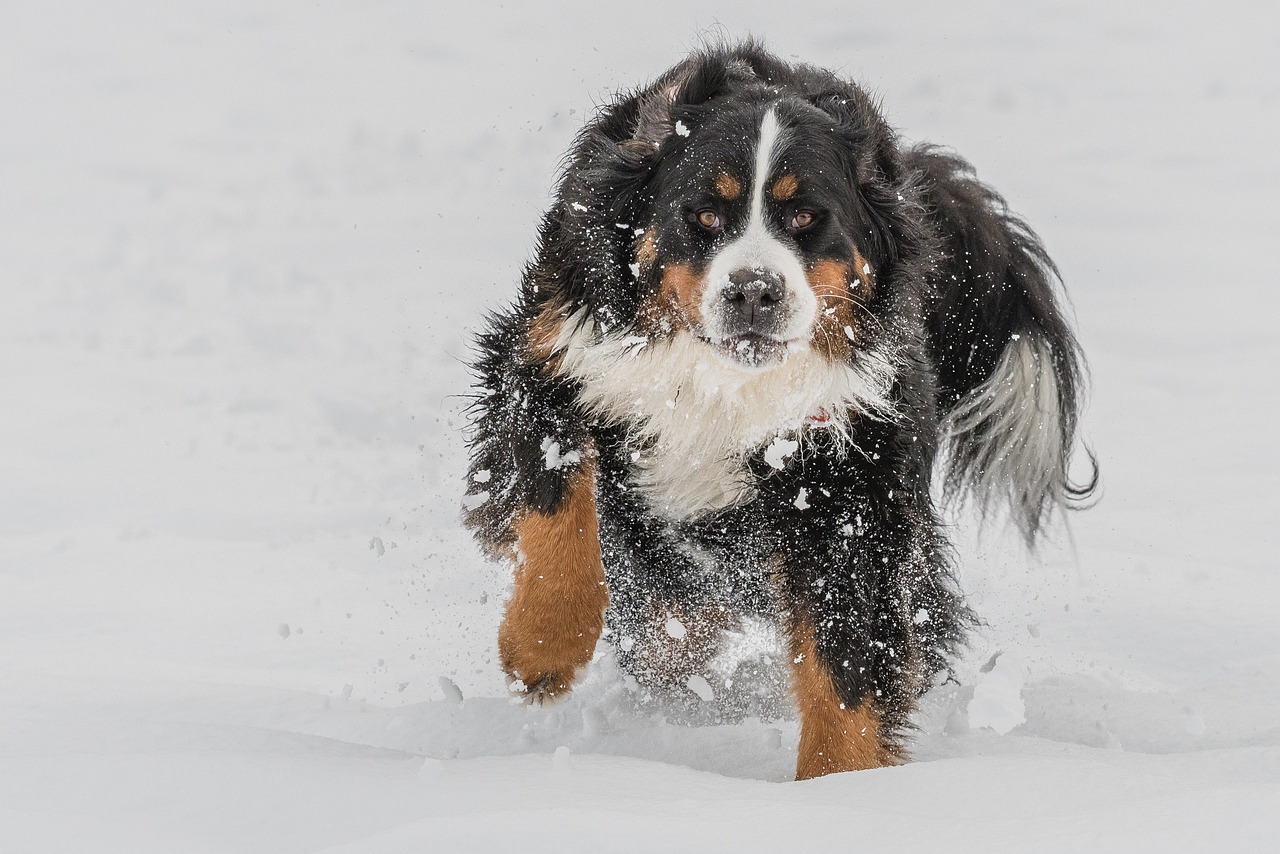 It's vital to consider cold-weather safety when you travel with your pet in the winter. The cold temperatures can make you and your pet feel uncomfortable. Here are some tips for winter safety if you plan to drive or fly with your pet. ).
Check to Make Sure your Pet is Travel-Ready
Before any trip you take, make sure that your pet is in good health and ready to travel, says Dr. Carol Osborne of Chagrin Falls Pet Clinic, located in Chagrin Falls. It may be better to leave your pet at home, with a dog sitter or boarding facility, rather than at the veterinarian's. Some pets are not suitable for travel, including:
Young pets

Aged pets

Animals in pregnancy

Animals that are ill
Consult your vet if you are unsure whether your pet will be able to travel in the winter.
Dr. Osborne adds, "Animals traveling should be groomed and obey basic commands." You should also make sure that "they are courteous and not knocking over people." It is not advisable to take a dog that constantly barks.
Prior to the trip
There are some things you need to do for your pet before you pack up the car and head out to the airport.
Contact Your Veterinarian
Speak to your vet a few weeks before you leave to ensure that your pet has all the necessary vaccinations. You may be traveling across the country or even around the world. Your pet might need new vaccines or treatments for parasites that it hasn't received before. You may need to provide a health certificate for your pet if you are crossing state boundaries. International travel will require even more documentation.
Many airlines require the signature of a veterinarian to certify that pets are safe for travel, even if they do not accompany their owners in the cabin.
Where to Stay?
Before booking, call the hotel to confirm that they accept pets. Some hotels may allow cats or dogs, but they might have restrictions on the weight, number, and size of the animals. Call ahead to confirm so that you don't have to scramble to find a place to stay on the day.
Prepare for pet safety
If you are traveling at any time, ensure that your pet is wearing a collar for cats and collars for dogs. These collars should have the most current contact information. If you have a microchipped pet, make sure the chip is accurate and registered.
Lindsey Wolko is the founder of the Center for Pet Safety, a consumer advocacy group that represents pet owners. She recommends taking a photo of yourself and your animal in case of separation.
Research and gather the contact details of several emergency veterinary clinics in your area before you leave for your destination. If you're driving, it might also be useful to look for any emergency vets along your route.
You can ask your vet to print your pet's records. Bring a copy of the record with you if you ever need medical attention while on vacation.
Make Sure Your Vehicle Is Pet Friendly
Traveling in a car with pets is dangerous. Pets that are not restrained can become distracting and they also have a higher risk of injury during an accident.
Wolko says that you should secure your pet properly when traveling in a vehicle with it. When you are driving, if your pet is climbing into your lap it could cause you to be distracted and possibly have an accident. Her recommendations are:
To travel with your cat safely, use a Cat Carrier.

Small dogs can also be transported in a carrier for longer journeys.

can be used by small or large dogs, depending on the product that your dog prefers.

Weighted kennels can accommodate larger dogs. They are secured by anchor straps with a strength rating.
Wolko advises that you should acclimatize your pet to these products before traveling. You can start with short trips and increase the distance. Your pet shouldn't be exposed to the harness for the first time on a long car ride.
You can also use these test drives to ensure that the pet safety items fit comfortably and securely. You don't need to worry when you go on longer journeys about your pet getting out.
In case of emergency, it is always wise to keep a roadside kit with you. Wolko recommends that you include flares, flags, or cones in your kit to alert drivers of your presence.
Talk about traveling with your vet a few weeks before you leave to give yourself time to test any motion sick or sedative medication at home. Test medications before traveling.
Bring Warming Products for Your Pet
Consider giving your pet an additional layer of protection before leaving home. Wolko recommends a cat sweater or a dog sweatshirt to keep your pet warm.
When choosing clothing for your pet to travel with, it is important that you also consider safety. Wolko warns that knitted fabric can get caught in a canine seatbelt, dog car seat, or cat carrier. Choose something which allows your pet to relax and move comfortably.
The following are some good products to bring along with you on your winter vacation:
Frisco Insulated Parka
PetFusion Quilted Blanket
Frisco Sherpa Dog and Cat Blanket
K&H Pet Products Microwavable Bed Warmer
Aspen Pet bed with self-warming
Do not forget the essentials
You should also pack some extra food for your pets. A container such as the Travel-trainer, which allows you to store food securely and includes bowls, is a great option. It is important to have extra water and food in the event that you are stuck in traffic or encounter bad weather. You can also use extra blankets or towels.
Wolko advises that if you are bringing toys for your pet, they should be secured so they do not fly around in the event of a car accident. Bring extra medication for your pet if you plan to be away from home longer than expected.
While on the Trip
You're now ready to go!
Take Many Pit Stops
When driving, Dr. Osborne recommends stopping every couple of hours to let you and your dog (or cat) go potty. You can stop for a bathroom break. Plan your journey to include these breaks.
Check the roads, sidewalks, and parking lots for any ice-melting products. They can damage your pet's feet and are toxic when consumed. You may want to pack dog booties in order to protect your pup's feet during winter. You can use TrueBlue body and paw wipes to clean your dog's feet after every pit stop if you do not have boots.
Wolko warns that your pet can easily escape or get stolen if you leave it unattended at pit stops.
Stay on the Move
Keep an eye on how much time you spend in the cold. Both dogs and cats are susceptible to frostbite or hypothermia if they spend too much time in cold temperatures.
If temperatures fall below 32 F and dogs are left outside for too long, they could become sick, very old or young. If temperatures fall below 20 F, pet owners should be alert to the possibility that their pets could suffer from cold-related health issues if left outside for long periods.
According to Dr. Osborne, frostbite is most likely to occur on the paws, the tip of the nose, ears, and the tips of the tails. The frostbitten skin will initially appear reddish and eventually turn gray. If your dog or cat has frostbite, you should give them a warm shower (not hot, but around 105 F will do), then wrap them in towels and bring them to a veterinary clinic. Do not rub the frostbite area.
The first signs of Hypothermia are pale skin, shivering, and listlessness. Bring your dog inside immediately if she exhibits these symptoms and call your vet.
Your Arrival
Once you arrive at your destination, make sure your pet is comfortable. Just like us, they will want to take a break from the trip and decompress.
Make a space that smells like home for your dog. Set up a cozy space for your pet using their favorite blankets and toys. A kennel or pen for your dog will allow you to keep them safe if you need to be away.