The American XL bully dog breed will be banned by the end of the year after a series of attacks, Rishi Sunak has said.
The prime minister said he had asked ministers to work with police and experts to define the breed "with a view to outlawing it", making it the first breed to be banned since the introduction of the Dangerous Dogs Act in 1991.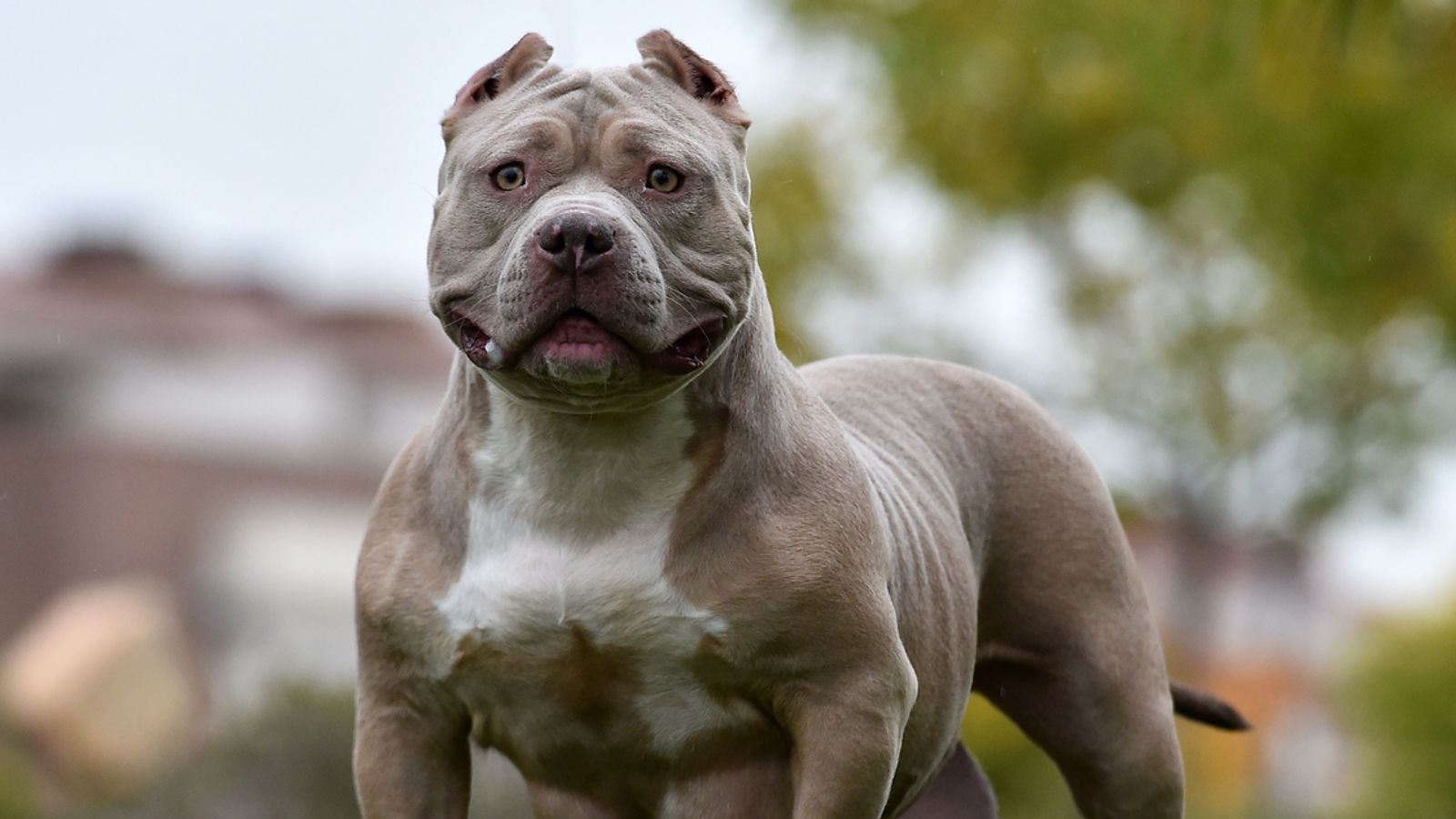 "The American XL bully dog is a danger to our communities, particularly our children," he said. "I share the nation's horror at the recent videos we've all seen. Yesterday we saw another suspected XL bully dog attack, which has tragically led to a fatality.
"It is not currently a breed defined in law, so this vital first step must happen fast. It is clear this is not about a handful of badly trained dogs, it's a pattern of behaviour and it cannot go on."
On Friday, it was confirmed Ian Price, 52, had died after being attacked by two dogs in Stonnall, West Midlands, with police saying they believed the animals, both of which were killed, were XL bully dogs.
Footage of an XL bully dog attacking people in the street in Birmingham, including a 11-year-old girl who sustained shoulder and arm injuries, prompted outcry this week.
Sunak said the breed would be banned under the Dangerous Dogs Act and new laws would be in place by the end of the year. "These dogs are dangerous. I want to reassure the public that we will take all necessary steps to keep people safe," he said.
The XL bully, the largest variant of the American bully breed, is thought to have been brought to the UK in around 2014, and is believed to have been bred from dogs including the American pitbull terrier, which was one of four breeds to be banned when the Dangerous Dogs Act was introduced.
The XL bully breed was linked to six of the 10 fatal dog attacks in the UK in 2022, and has been involved in at least two fatalities this year.
The campaigner Emma Whitfield, whose 10-year-old son, Jack Lis, was killed by an XL bully in south Wales in 2021, said in response to the announcement: "I'm sobbing. I'm sat on my own sobbing. I don't even have words right now."
Sunak's official spokesperson denied there had been any delay to the ban, which would be implemented jointly by the Department for Environment, Food and Rural Affairs and the Home Office.
"Clearly, this breed of dog isn't defined in law so it's right to take the time to consider the best way to put an end to these horrendous attacks that we're seeing," he said. "That work has been done and that's why we've confirmed the position today."
The Dog Control Coalition – which is made up of the RSPCA, Battersea, Blue Cross, the Dogs Trust, the British Veterinary Association, the Scottish SPCA, the Kennel Club and Hope Rescue – have opposed a ban on the breed and said they were "deeply concerned about the lack of data behind this decision".
"The recent incidents are deeply distressing and our thoughts are with all those involved and affected," they said in a statement. "But banning the breed will sadly not stop these types of incidents recurring. For 32 years, the Dangerous Dogs Act has focused on banning types of dog and yet has coincided with an increase in dog bites, and the recent deaths show that this approach isn't working.
"The UK government must tackle the root issue by dealing with the unscrupulous breeders, who are putting profit before welfare, and the irresponsible owners whose dogs are dangerously out of control."
Concerns have also been raised that a ban on the American XL bully breed would be difficult to implement due to it not being an officially recognised breed by the Royal Kennel Club and its similarities to other breeds.
"A ban on these dogs could inadvertently lead to other dog breeds being included under the same category and consequently banned in the UK," said Rhianna Tsiattalou, a criminal defence lawyer. "The cross-bred nature of these dogs means it would be a challenge to enforce a ban in every case."
In a video posted by the Daily Mail, Boris Johnson suggested he did not support the ban. Holding his own dog, a jack russell cross called Dilyn, he said: "It's not the dog that's the problem, it's the owner."
Three groups that campaigned for the ban of XL bully dogs – Bully Watch, the Campaign for Evidence Based Regulation of Dangerous Dogs, and Protect Our Pets – said the ban was "key to protecting the health of both humans and dogs".
"Our research shows these dogs are a clear and present threat to public health, and are significantly more dangerous than other dogs – they have caused the majority of human deaths and the death or maiming of countless beloved pets as they have risen in popularity in the last three years," they said.
The ban would allow police to take action against dangerous dogs, they said, while protecting "good dogs owned by good owners" through the Index of Exempt Dogs.
Owners of a banned breed that is not believed to be a danger to the public can receive a certificate of exemption that allows them to keep the dog under strict conditions, such as ensuring the animal is neutered, microchipped and always kept on a lead and muzzled when in public.
Recent deaths caused by the XL bully breed include 28-year-old Natasha Johnston, who was killed while walking eight dogs in Caterham, Surrey, in January. An investigation concluded it was her own dog, an XL bully, that had caused the fatal injuries and it was subsequently put down.
In May, Jonathan Hogg, 37, was killed after sustaining bite wounds to his arm, leg and head while he was looking after a friend's XL bully in Greater Manchester.
I hope you appreciated this article. Before you move on, I was hoping you would consider taking the step of supporting the Guardian's journalism. 
From Elon Musk to Rupert Murdoch, a small number of billionaire owners have a powerful hold on so much of the information that reaches the public about what's happening in the world. The Guardian is different. We have no billionaire owner or shareholders to consider. Our journalism is produced to serve the public interest – not profit motives.
And we avoid the trap that befalls much US media – the tendency, born of a desire to please all sides, to engage in false equivalence in the name of neutrality. While fairness guides everything we do, we know there is a right and a wrong position in the fight against racism and for reproductive justice. When we report on issues like the climate crisis, we're not afraid to name who is responsible. And as a global news organization, we're able to provide a fresh, outsider perspective on US politics – one so often missing from the insular American media bubble. 
Around the world, readers can access the Guardian's paywall-free journalism because of our unique reader-supported model. That's because of people like you. Our readers keep us independent, beholden to no outside influence and accessible to everyone – whether they can afford to pay for news, or not.